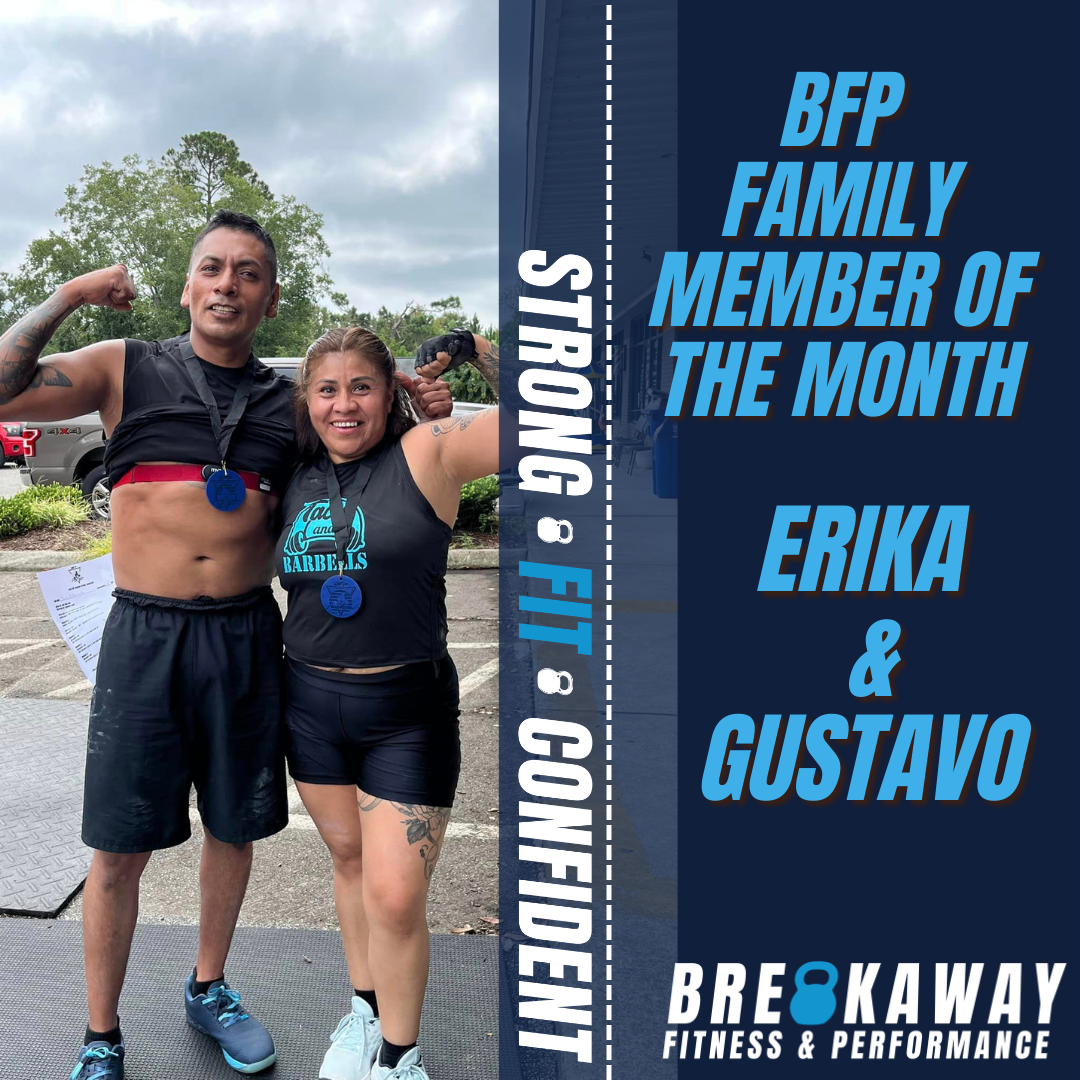 This month, we want to highlight two of our hardworking, early morning members, Erika Garcia and Gustavo Mendoza. Erika joined BFP at the end of August, 2020, Gustavo joined one week later, and between the two of them, they have attended more than 1,200 sessions.
Some highlights from their past year at BFP: Erika ran her first Spartan Sprint in Charlotte last April. She did a great job on the obstacles, including the slip wall, rolling mud, and the rings. ;) Erika and Gustavo competed together as team "Tacos and Barbells" in the BFP Combine in August. They both competed in DEKA Strong in Sneads Ferry in October. They both ran the Cape Fear Vineyard Wine Run 5K in November, where Gustavo placed first in his Age Group. And Gustavo recently competed in the DEKA Strong last month. Congratulations on a very busy, competitive year!
Despite the early morning hour they attend sessions, they are both attentive and focused athletes. Erika's PRs are 195 lbs. on her back squat, she can deadlift 200 lbs., and she has used a 62 lb. kettlebell to swing for 10 reps. Gustavo's PRs are 265 lbs on his back squat, he can deadlift 305 lbs., and he has used the 106 lb. kettlebell to swing for 10 reps.
On a personal note, Erika and Gustavo are positive and hard-working. They are very friendly and motivating - you'll often find Erika smiling and Gustavo giving out fist bumps.
We are so lucky to have you as part of the BFP family! Keep up the good work, Erika and Gustavo!
Coach Steph
Erika is also working hard on progressing towards her 6-12 month goal in our one-on-one nutrition coaching program. She has already crushed several of her habits and has made some sustainable changes. She is eating a more balanced diet, meal prepping and is more aware of her food choices. Erika is extremely coachable and a pleasure to work with. Keep up the momentum!!
Coach Melody