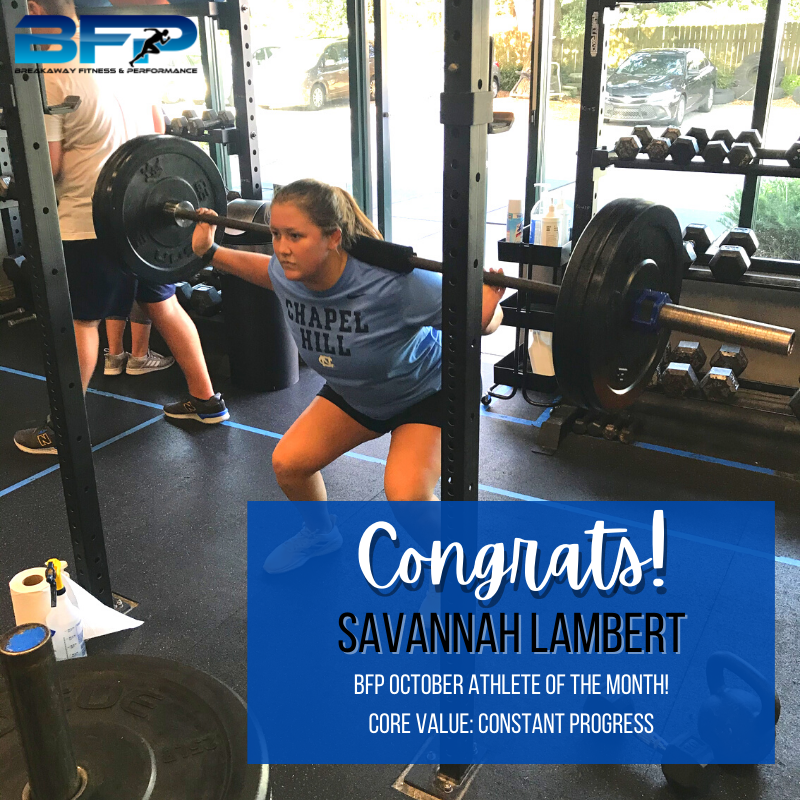 This month at BFP, I want to give a shout out to Savannah Lambert for being athlete of the month! She has been training at BFP for a few years and it has been awesome to see her grow into a strong woman. She is a "go-getter" and honestly someone I can rely on to consistently show up for her training sessions. That makes a HUGE difference and it has shown in her training! On top of that, I appreciate how hard she pushes during her training session and I know it's rubbed off onto other people.
A little bit about Savannah. She is a junior at Topsail and playing basketball is what she loves to do. I can relate to her love for the game because when I was her age, basketball was life! During the summer, she also worked at the local Hampstead, Port City Java.
Oh yeah, did you know her parents also train at BFP!? Ricky and Angela Lambert both work out in the morning and they are setting a great example to Savannah about lifelong healthy habits.
Savannah, congrats on being athlete of the month and I look forward to you crushing your basketball season. Keep up the good work!
Coach Silas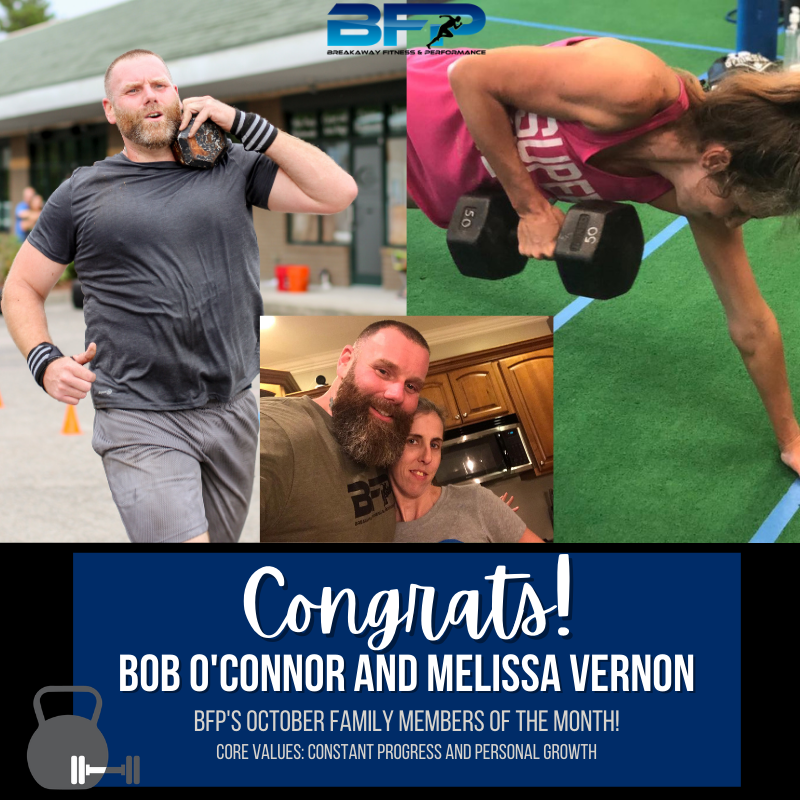 BFP Family Members Of The Month: Bob O'Connor and Melissa Vernon
Bob and Melissa are one of the POWER COUPLES here at BFP. Both came in as different people than they are now.
Melissa started out a little quiet, and a little shy. Bob came in with some experience and some strength.
Now, Melissa will epitomize the mantra "Hardest Worker In The Room". She's gotten her bench press up to 80lbs, her back squat to 195, and a deadlift of 155 as of 2019. That's due to be tested on 10/23 and may change quite a bit! The moment the warm up starts Melissa is all gameface and ready to rock. Melissa has packed on 3lbs of muscle and dropped a couple of lbs of bodyfat. Oh yeah, she's also done more than 100 sessions at BFP! Melissa, we appreciate the heck out of your work ethic and your general attitude when at BFP. Thanks for putting in such consistent work and always being one of the hardest workers in the room! Your dedication to constant progress and personal growth is clear!
What about Bob??? Well, Bob has had some old injuries to work around but now benching over 245lbs, he's squatting in the 350lb range, and his deadlift, about to be tested again, has gotten as high as 455lbs!! Since February of 2019, Bob has dropped a total of 11lbs, gained over 4lbs of muscle, and dropped over 17lbs of bodyfat! Bob is also going to be one of the hardest workers in the room. He's always will ing to take on a challenge and he is the returning champ of the BFP Fitness Combine taking place 11/14 this year!
Another thing about Bob is his general demeanor. Bob can be motivating and loud if need be, but he's also one of the most humble people I know. As is Melissa.
That's important to us here at BFP. Because of their humility, and their dedication to personal growth and constant progress, we want to recognize Bob and Melissa and say thank you for being part of the BFP Family!