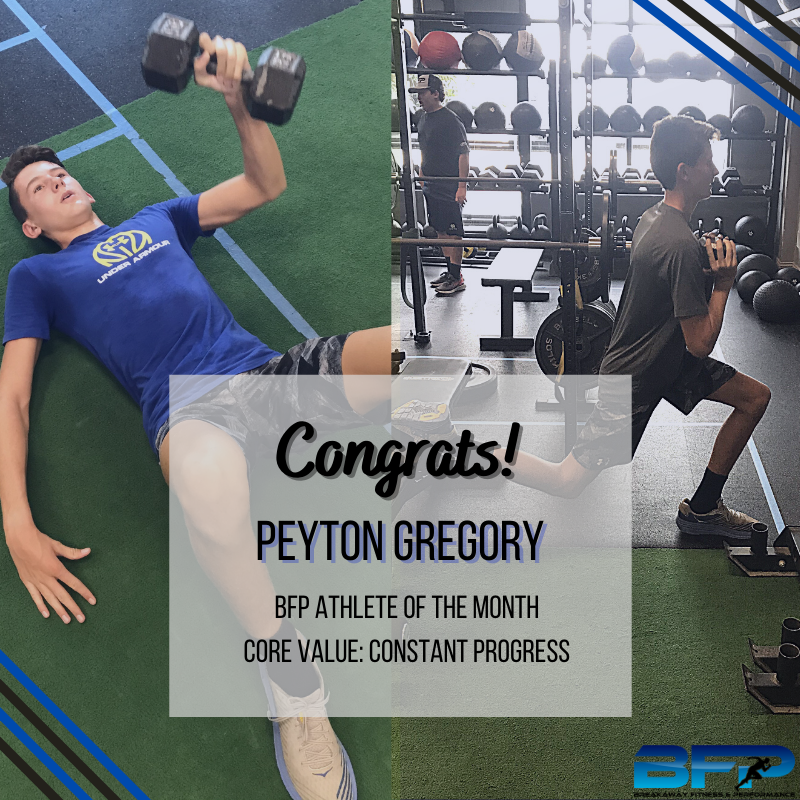 This month, I wanted to give a shout out to Peyton Gregory for being "BFP athlete of the month." He started with us over the summer and has made tremendous strides in his training in just a few months.
Peyton is a freshman at Laney HS and is currently in his cross country season. He has practice in the early morning and still comes to train at BFP after school. Not many kids put in that type of work, especially with a smile on their face!
One thing I admire about Peyton is his drive to get better at everything in the gym and his ability to ask questions. I appreciate how coachable he is and like I mentioned earlier, he has made a ton of improvements in just a few months. He is bought in on the benefits of strength training and understands that it is going to get him faster and keep him healthy.
Peyton, keep up the hard work, keep being consistent with your training and I hope you have the opportunity to run this year!
Coach Silas
Morgan has been an absolute rockstar since starting at BFP! Not only does she show up at least 3x per week but she also gets as much activity outside of BFP as possible. Going for runs a few times a week and even getting in awesome walks with the family.
Morgan's results have lined up with her consistency to exercise. Basically, hard work pays off!
💪Morgan has dropped 16.9lbs
💪Gained 5lbs of muscle
💪Dropped a whopping 11.5% body fat
💪Lost 24.5lbs of fat!!!!
She continues to crush it and get these amazing results!!!
More important than results is the example she sets for her kids. They watch her work super hard from our Kids Zone and they see her putting in the work at home. They often go for walks with her as well!
Morgan, your hard work has not gone unnoticed. We see you, we appreciate you, and we are proud of you!!!!
Thank you! Now, everyone take a minute to give Morgan a virtual high five!!!!